Tire price comparison service in Canada
Compare prices on Tirecomp.ca to get the best tractor tire deals in Canada
You have to plough the fields, transport your crops or do forestry work with your tractor? Your productivity and comfort start with durable tires that are adapted to different surfaces. However, we are aware that the prices for quality tractor tires may discourage you. That is why Tirecomp exists! We make it easier for you to compare prices in order to buy agricultural tires without ruining your business.
Why should I compare tractor tire prices on Tirecomp?
If you are tired of looking for your ideal tractor tires in the many online stores without knowing if they have the best value for money or if the prices are not going to change in a flash, you have come to the right place! Tirecomp will make you save precious time and money by providing updated tractor tire price lists so that you will never miss the best deals. We offer a great variety of manufacturers and reliable retailers. No matter what your budget is, you will always find the right tire on our price comparison site!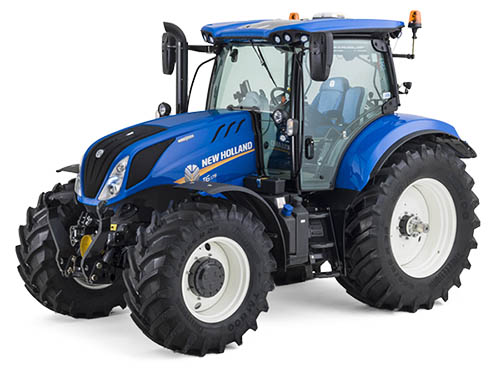 How can I find the best tractor tire deals?
Nothing could be simpler! Just enter the width, profile and diameter along with the load and speed ratings of your tires in our search engine. Then click on "Search" to load the tractor tire price list.
You can find your tire sizes directly on your current tractor tires or in the papers of your vehicle. Be aware that the dimensions of older tire models are sometimes written in inches. But do not worry, some tire dealers provide a list of equivalence on their website so that you do not get lost. If you have any doubt, ask a professional for advice.
How do I compare tractor tire prices on Tirecomp?
The price list always displays the tires from the cheapest to the most expensive one, including VAT. To refine your search, select the brands and retailers that you want to compare in the left column. You can also set a price range to get only the tractor tires that fit your budget. Once you found the best tractor tire, click on "Visit store" to go on the tire dealer's website. There you will be able to purchase your new tractor tires.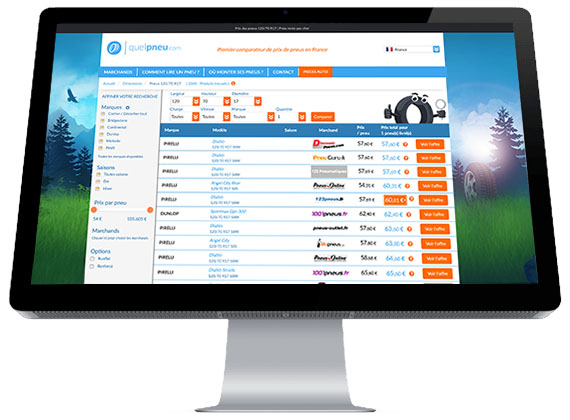 Are budget tractor tires worth buying?
Tractor tires for sale can indeed be very expensive. It is therefore understandable that some people prefer to buy the cheapest ones. But even if budget agricultural tires will cost you less at the time of purchase, they will not necessarily be cost-effective in the long run because of the sizable operating costs. First you will notice that they wear out faster due to unreinforced sidewalls or an overly stiff casing, resulting in a risk of failure and more frequent replacement. Moreover, cheap tractor tires can slip and damage the soils more easily because of their inadequate contact area - quite a problem when these soils are fertile lands. Your comfort can also be affected because budget tires have a lower capacity to reduce vibrations and rolling noises than quality tires. All these drawbacks put together may contribute to increasing your fuel consumption and reducing your productivity. So, if you want well performing tires for your tractor, think long term and good value for money, you will not regret it!
Which tractor tires should I choose?
Selecting the right tractor tires online is not only a matter of budget. It also depends on the type of work you undertake and the soil you encounter while taking into account practical criteria like traction, slippage, vibration and handling. There are many agricultural activities resulting in a wide variety of bias-ply and radial tires.
What are the different types of tractor tires in Canada?
Farm tires
Farming can be tough on tires but do not worry! The farm tires' soft rubber and aggressive tread pattern will provide you good traction while working in the fields. They have a low-pressure capacity that generates a wider contact area and therefore limits the soil compression, a key criterion to preserve the quality of your fields. These agricultural tires can also carry the weight and towing of heavy tools. Some ranges such as IF (Improve Flexion) tires have a special casing designed to support 20% more load. Whether you need to harvest or spray your fields, farm tires will adapt to all weather conditions and are available for both wide and narrow wheels.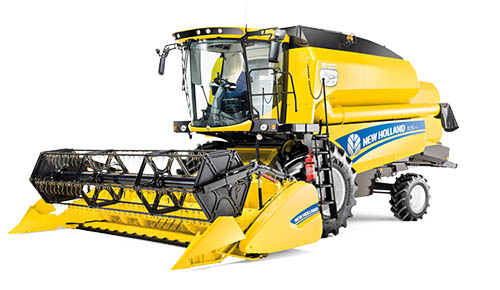 Multipurpose tires
Multipurpose tires are quite versatile and are designed for towing heavy tools or loaded trailers between the farm and the fields. Therefore, these tires also provide a great grip and drivability both on the road and in the fields. More and more multipurpose tires have the VF (Very Improve Flexion) technology, made to carry up to 40% more weight and to keep you from changing pressure from one type of soil or speed level to another. You will subsequently increase productivity while saving time and fuel. However, remember to change the pressure according to the load you carry.
Forestry tires
Forestry tires are robust to face difficult and congested terrains (branches, flint, etc.). Their rubber and often reinforced steel casing make the sidewalls very resistant to puncture. Forestry tires do not compress the soils so that nature can take over once the work is completed. Made with low-pressure features, these tractor tires often have self-cleaning profiles. There is nothing better than forestry tires to start your working day with peace of mind!

Tractor implement and trailer tires
Trailer tires have a robust structure that is designed to carry the various loads to which your trailer may be subjected. These low-pressure tires allow your entire agricultural machine to respect the soils. Whether you have a standard trailer or a towing bucket, on Tirecomp you will always find tires with suited dimensions. Please note that this list of tractor tire types is non-exhaustive. On the dealers' website are also many tractor tires suited to other activities like viticulture, arboriculture and livestock farming.
What are the best tractor tire brands in Canada?
Among the tire manufacturers specialized in tractor tires are Trelleborg, BKT and Cultor. Do not hesitate either to buy your tires from major brands like Michelin, Continental and Bridgestone. Whatever the agricultural machines you work with - a harvester, a scraper, or a sprayer - you can find the fitting tires among these brands and many others on Tirecomp!
How can I get my tractor tires mounted near me?
Once you bought your new tractor tires online at an affordable price, one question remains: how can I get these big tires installed? Whether you are in Saskatchewan or Manitoba, our partner dealers make available lists of nearby installers so that you can ask if they can mount your new agricultural tires. By contacting them, you can also schedule an appointment and ask for a quote. They will generally offer you two options: have your tires mounted at the garage or have the mechanic coming to your doorstep, thus saving you a cumbersome trip.
Now you know that the choice of your tractor tires is decisive for the preservation of your soils. Use Tirecomp.ca to find quality tires at the lowest price! If you have any questions or comments about the tractor tire comparison, you can either have a look at our guide or contact us directly. Customer satisfaction is our priority!